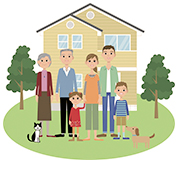 'Homestays' are an option for accommodation in Japan. This entails staying with a Japanese host family for a period of time while you are in Japan. This will give you the fantastic and unique experience of being able to meet and communicate with Japanese people in a friendly family environment. Even if you do not speak Japanese, do not worry: the language of gestures is a universal means of communication!
| Optional extras | Cost |
| --- | --- |
| Lunch at the family per day | £10.00 |
| Cooking classes | £77.00 |
| Japanese Courses | £80.00 |
| Airport Pick-up assistant | £165.00 |
Meet several families in different cities!
Examples of stays for 1 week *: Stay in 2 different locations!
- 4 nights in Tokyo + 3 nights in Kyoto
- 3 nights in Hokkaido then 4 nights in Okinawa

Examples of stays for 2 weeks *:
- 3 nights in Tokyo + 4 nights in Takayama + 4 nights in Kyoto + 3 nights in Tokyo
- 2 weeks at a farm in the countryside
We have families in all regions of Japan, from Hokkaido to Okinawa, via Tokyo, Kyoto, Nagoya, Kyushu, etc.
Learning culture as part of a family
Part of the additional services available are taking Japanese classes, or even Japanese cookery courses!
-Insured, family accommodation
- Rest assured, our staff in Japan will choose your family carefully.
- In case of emergency, you can contact our staff in Japan.
General conditions : Cancellation and modification

* In case of cancellation, the conditions are as below:
60 days before departure 30%
30 days before departure 50%
7 days before departure 80%
3 days before departure 90%
Same day / No show 100%
**Agent / Bank transfer fee will not be refunded