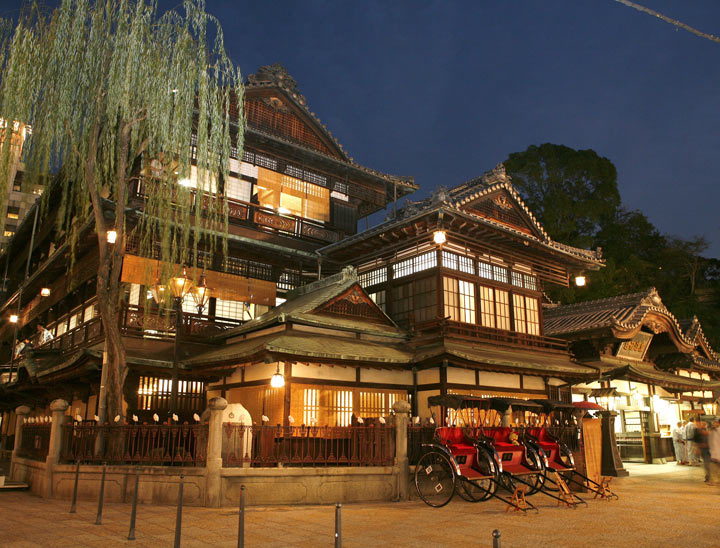 An 'Onsen', is a natural hot spring bath and is one of the most popular places to relax both the body and mind in Japan. As Japan is situated in a volcanic area, thousands of onsen are scattered throughout Japan are often best enjoyed out in the countryside.
'Rotenburo' is a word meaning outdoor bath and refers to outdoor onsen, which are very enjoyable and relaxing, especially when Japan has so much stunning natural scenery all around. Every onsen area has different kinds of minerals that provide different types of medical benefits. There are many different types of onsen: open air or inside, colourless or coloured, public or private and also mixed gender or separate. The bath tubs are most often made from Japanese cypress, marble or granite. Japanese onsen or 'hot springs' are an integral and beloved part of Japanese culture that many end up falling in love with – understandably so! Public baths or communal bathing in nature may seem like a strange concept to some, but once you've tried it you'll become a believer, trust me. Therapeutic , refreshing and relaxing, onsen are the perfect way to treat yourself and relax in the Japanese countryside and enjoy the amazing scenery of Japan, as well as fresh food.
By adding a Japan Rail Pass to your travel itinerary, getting to onsen locations can be both affordable and simple. We sell the main 7, 14 and 21 day Japan Rail Pass as well as various regional Japan Rail Passes that allow convenient travel on the Japan Rail network.
Kusatsu Onsen, Gunma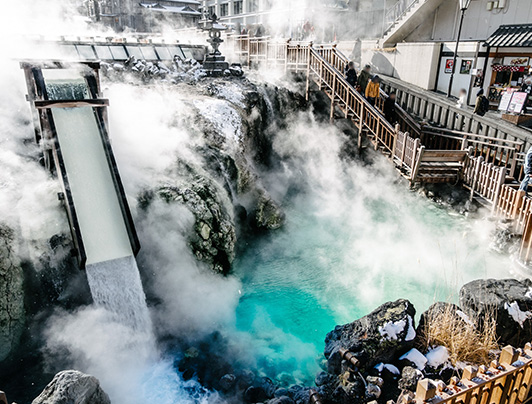 Kusatsu Onsen (hot springs) is one of Japan's most popular hot spring resorts.
Yubatake is known for the quality of its hot spring water which flows from one of the country's three major springs. Another popular attraction is 'Yumomi' – a traditional way of cooling down hot spring water by using large wooden paddles. A yumomi performance for tourists is held daily in the Netsu No Yu bathhouse next to the yubatake (admission 500 yen).

Accommodation in Kusatsu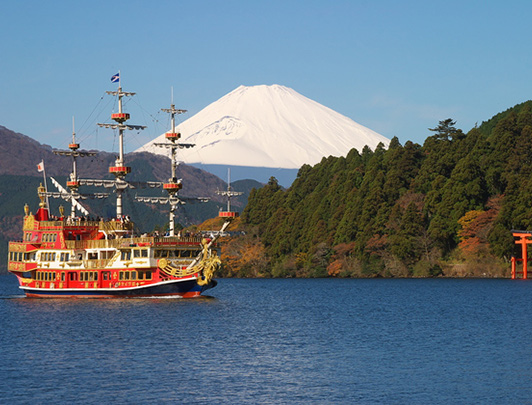 Hakone is one of the most popular onsen (hot spring) towns and has a history of 1200 years. Hakone has become a favourite holiday destination for those who want to escape the hustle and bustle of a nearby mega-city. Hakone is only one hour away from Tokyo and is famous for its view of Mount Fuji as well as its breathtaking scenery.
Hakone offers a variety of ryokans (a Japanese inn) from luxurious to more affordable ones. All ryokans provide you with an authentic Japanese experience. Hakone Yumoto is the entrance to Hakone hot spring village and the oldest hot spring town in Hakone.

Accommodation in Hakone
Yufuin Onsen, Oita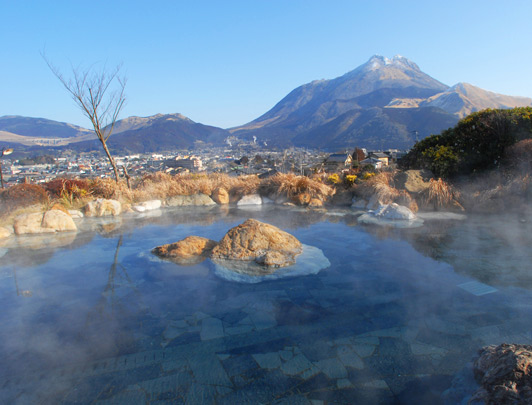 Yufuin is a lovely onsen town located in a small valley surrounded by mountains and is easily accessible on an express train or bus operating from Fukuoka city. For many years, Yufuin has been ranked one of the best onsen destinations in Japan. Its main street is lined with cafes, souvenir shops and small museums.
When you arrive at Yufuin, a rotenburo (open air bath) is an absolute must.
The town offers scenic views – as soon as you arrive at Yufuin you are bound to experience the town's unique atmosphere and ambience.

Accommodation in Yufuin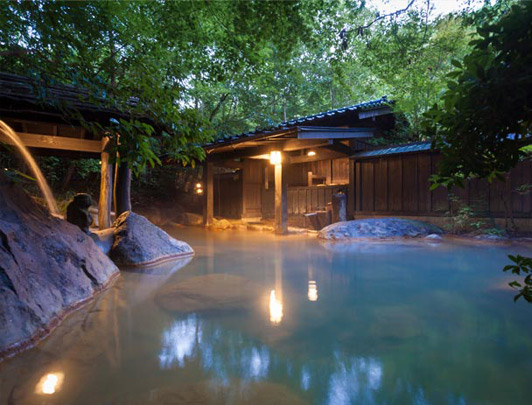 Kurokawa Onsen is one of the most charming small hot spring towns in the north-west of the Kumamoto prefecture between the Kuju Mountain range and Mount Aso.
There are no high-rise hotels or neon advertisements in this area. The town is well-maintained under a preservation project which accounts for its nostalgic atmosphere.The Kurokawa onsen operates a system of "Nyuto Tegata" - a multiple onsen entry pass valid for six-months (price: JPY1300). You have a choice of three open air baths at 24 different ryokans.
Another way to enjoy the village is go hiking in the surrounding area. An English audio guide can be hired at the visitor centre for a small fee (JPY500). It is where you can obtain information about various ryokans and places of interest in the village.

Accommodation in Kurokawa
Beppu Onsen, Oita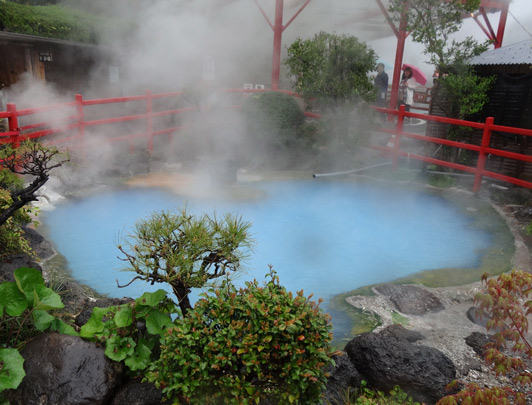 Beppu is one of the oldest and most famous hot spring towns in Japan located in Oita. The town is situated between the mountains and Beppu Bay which ranks first in gush volume in Japan. The Beppu hot springs consist of eight areas including Beppu, Myoban, Kannawa, Kankaiji and Hamawaki which are collectively called "Beppu Hatto".

Accommodation in Beppu
Gero Onsen, Gifu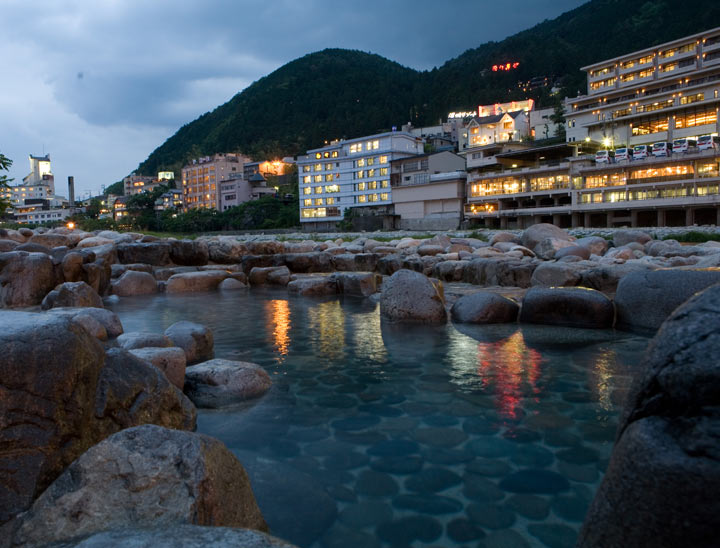 Gero Onsen is one of Japan's three best onsens along with Kusatsu and Arima. Gero onsen is located in Gero city which is 45 minute train journey away from Takayama.
A 'Yumeguri Tegata' (onsen pass) costs 1,300 yen and includes entry to three ryokan's onsen of your choice. The pass is available at the information centre outside JR Gero station or at participating ryokans.

Accommodation in Gero
Noboribetsu Onsen, Hokkaido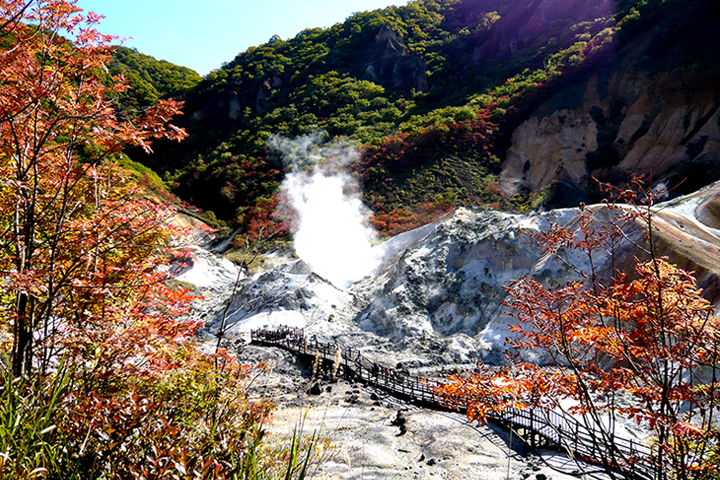 Noboribetsu Onsen is the most famous onsen resort in Hokkaido and one of best onsen resorts in Japan. The hot spring naturally produces 10,000 tonnes of water a day. The temperature of the water can be as high as 45 or even 90 ̊C. Noboribetsu Onsen produces 9 different types of spring water containing elements and minerals such as sulphur, salt, aluminium, mirabilite, melanterite, iron, acidic iron, alkaline and radium.
Onsens are used as therapeutic baths to cure diseases and injuries, and over the past few years a great number of people have realised their benefits. Those who enjoy good health use onsens to rejuvenate their body and mind. It is highly recommended to stay in a traditional onsen ryokan.

Accommodation in Noboribetsu
Kinosaki Onsen, Hyogo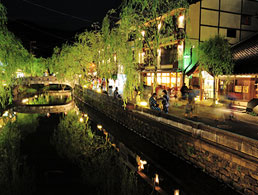 Kinosaki Onsen is located in northern Hyogo on the coast of the Sea of Japan. The town is famous for its seven public hot springs called 'sotoyu'. Visitors to the town can see locals walking down the river dressed in Yukata (cotton robe). This attire together with traditional Japanese-style three-storey high wooden ryokans add to the town's historical atmosphere.

Accommodation in Kinosaki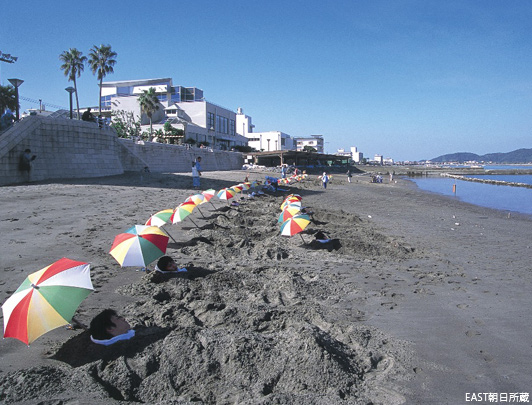 Ibusuki onsen resort is located in the southernmost tip of Japan. It is about an hour's journey from Kagoshima city and can be reached on a sightseeing train 'Ibusuki no Tamatebako' from JR Kagoshima-chuo. The resort features one of the few natural steam sand baths in the whole of Japan. The sand bath is considered to be effective in relieving a number of ailments such as neuralgia, rheumatism, asthma, gastrointestinal troubles and it can be especially beneficial for women.

Accommodation in Ibusuki
Dogo Onsen, Ehime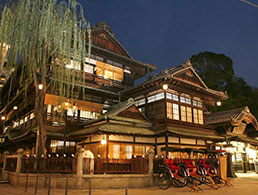 Dogo Onsen, located in Matsuyama, is the oldest hot spring in Japan with 3,000 years of history. Dogo Onsen Honkan (main building), a symbol of the town, was constructed in 1894 as a public bath. This three-storey high castle-like wooden structure incorporates traditional design elements, such as the white heron on top of the 'Shinro-kaku' (white watch tower), in homage to its origins. Fans of Hayao Miyazaki s award-winning animated film 'Spirited Away' may recognise Dogo Onsen Honkan to be the inspiration for the bathhouse in the Studio Ghibli feature.

Accommodation in Dogo