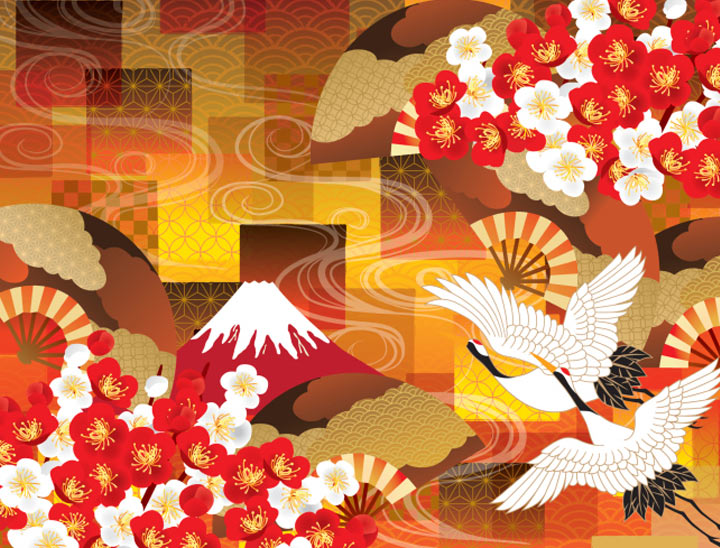 Japan has a distinct, fascinating culture that is unlike any other countries, and will leave a lasting impression with you! This is part of what makes it such a captivating country to visit and it is certainly one of the most unique countries in the world!
Japanese culture has many different uniquely interesting aspects, both modern and traditional, such as: cuisine, architecture, performing arts, fashion, anime, manga and Geisha. On the one hand Japanese culture is immersed in a rich history and deep traditions dating back thousands of years; on the other Japanese society is one that is in a continual state of rapid change, and is continuously evolving with new trends in fashion, technology and pushes the boundaries of what is possible.
At present, the culture of Japan stands out as one of the leading and most prominent cultures around the world, mainly due to the global reach of its popular culture. If you are looking for something different and a culture like no other you'll certainly find that in Japan!
Japanese Cuisine
Japanese cuisine is well known and appreciated globally for its precision, highly detailed technique and unique presentation. Each region in Japan has its own variety of specialty dishes with ingredients that are carefully selected to complement its individual flavour. Rice has been an essential food and source of nutrition for millennia and has been used to make various products such are rice cakes and condiments: from Sushi, Okonomiyaki, Teppanyaki, Teriyaki, Tempura, Udon, and Yakitorit, to name but a few. Washoku has been recently included on the list of UNESCO's (United Nations Educational, Scientific and Cultural Organization) Intangible Cultural Heritage of Humanity. These are traditional foods that are regularly eaten at home on a daily basis; it consists of cooked rice, soups, pickles and side dishes to make the rice more appetizing.
Temple Lodging (Shukubo)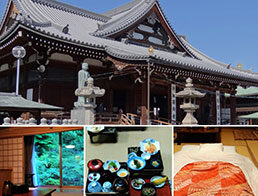 Temples and shrines
offer
accommodation
to visitors and serve traditional vegetarian food. A Buddhist service is held early every morning at Shukubo temples. During the ceremony, the chief priest and monks of the temple chant Buddhist sutras in the main temple hall. It may be noted many temples offer a course on meditation. In the past, temple lodgings were only for monks engaged in disciplined practices. However, Buddhists temples these days are open to tourists regardless of their beliefs. This is why religious tourism and the hospitality that temples give, is a popular choice among overseas visitors.The best example of this would be
Koyasan
which has more than 50 temples. It has been awarded as part of the "Sacred Sites and Pilgrimage Routes in the Kii Mountain Range", a place on UNESCO's prestigious world heritage list.
Geisha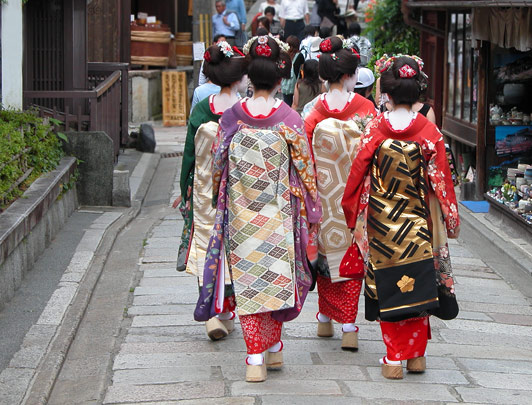 The
Geisha
are considered living custodians of Japanese culture and one of the known symbols of Japan. In essence, they are performing artists, adept at playing a range of musical instruments, traditional dance and mannered conversation.
Tea Ceremony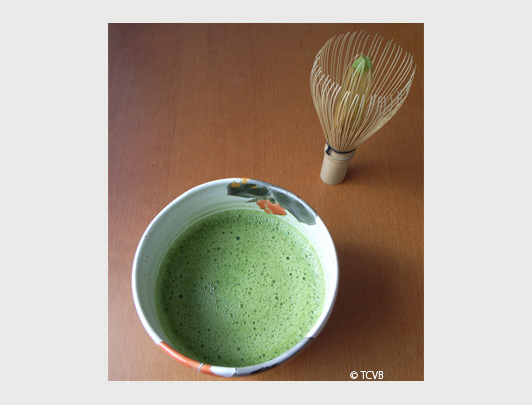 A ceremonial and cultural presentation of
'Matcha' (powdered green tea)
. The ceremony is to form a bond between host and guest that demonstrates the spirit of generosity and respect. The Japanese tea ceremony is a long standing tradition, the refreshing brew first being introduced during the 9th century. Its initial use was for religious rituals in Buddhist monasteries going on to become a status symbol for the well-off and military officials. Over the years, tea drinking has been extended to different levels. Sen no Rikyū, a historical figure and honourable tea master, introduced the four principles of Chanoyu, Wa Kei Sei Jaku (harmony, respect, purity and tranquillity). The essential components in a tea ceremony are Natsume (tea caddy), Chakin (hemp cloth), chasen (whisk), chasaku (tea scoop), chawan (tea bowl), and Kama / Chanoyugama  (iron pot, or kettle).
Sumo Wrestling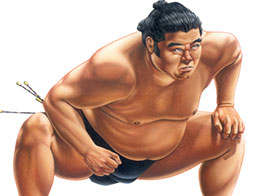 Sumo
has a long and proud history and is considered the oldest sport of Japan. It has strict rules and traditions that have survived modernity and are still rigorously adhered to. There are rituals and ceremonies performed before practice and bouts. The idea behind the sport is that two Rikishi's (wrestlers) contend, push and try to throw each other out of the Dohyo (circular ring). The winner being the wrestler who forces his opponent to the ground or out of the circle. The Rikishi's wear their hair in topknot, wearing nothing but a Mawashi (loincloth). There are six Basho (tournaments) a year, each holding 15 bouts.
Traditional Performing Arts - Noh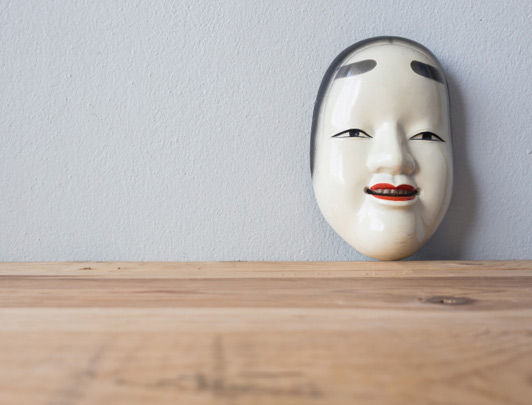 Noh or Nogaku is a one of the oldest, surviving and regularly performed traditional Japanese theatres which has two types Genzai no (realistic Noh) and Mugen no (fantasy Noh). The music, dance and drama all originated the 14th century. The well-known Noh founder, Zeami, is one of the most important historical figures in Japanese theatre. It has also been designated as an "Intangible Cultural Heritage" by UNESCO. Many years ago, all Noh players were men, but lately there have been a growing number of female players. The hero or heroine wears a mask during the performance and Waki –a stock character, acts both as a performer and musician.
Traditional Performing Arts - Kabuki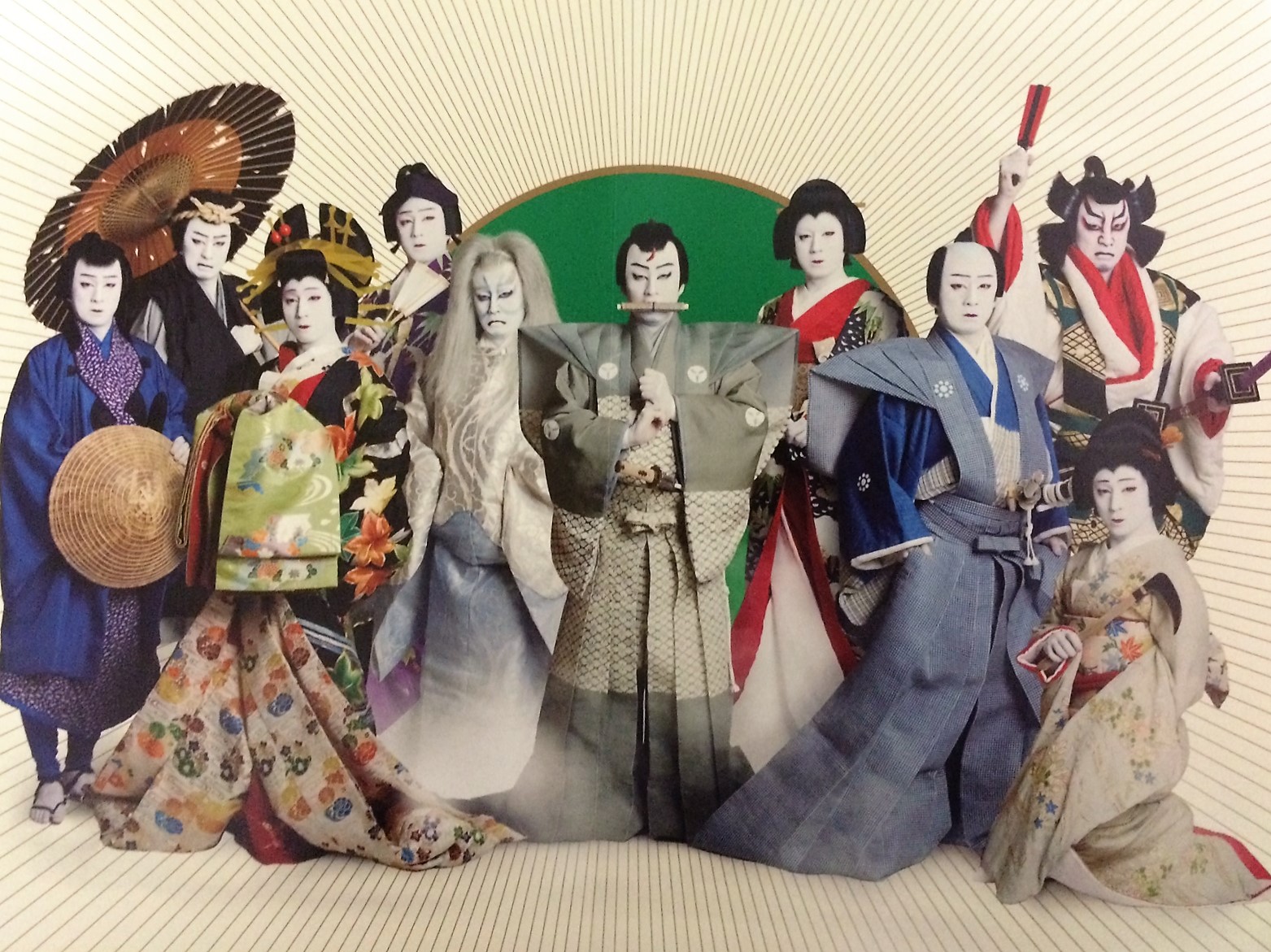 Ka, signifying "song"; bu, "dance"; and ki, "skill."
Kabuki
has derived most of its material from the Noh theatre. The main audience are townspeople and farmers. It is one of the three major classical styles in Japan. Originally, the cast were performers of both sexes, male and female but later all parts were played by men and this tradition continuous up to the present day. Kabuki is performed by men wearing Kesho (kabuki make-up). There are two types of roles, which are Aragoto (rough style) and Wagoto (soft style). Kabuki has its own distinctive music, costumes, stage craft and props which strive to adapt traditional styles for modern pallets.
Origami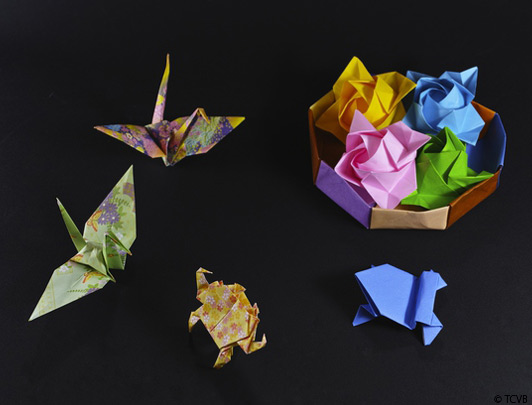 The art of folding paper often associated with Japanese culture.
Ikebana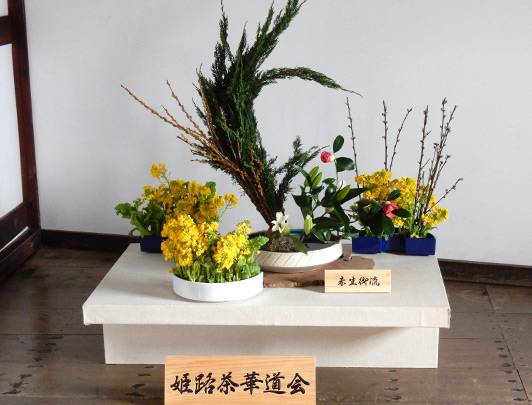 Japanese art of flower arrangement
Ryokans (Traditional Japanese Inns)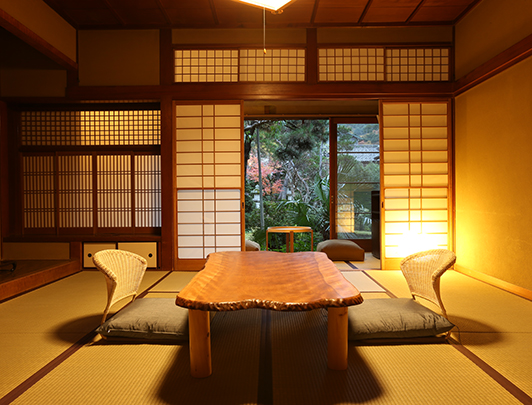 A Japanese ryokan
is an inn that usually features communal or private baths, tatami floors, local cuisine and futons. It is a not-to-be-missed experience if you are to fully immerse yourself in the traditional lifestyle and local hospitality of Japan.
Japanese Fashion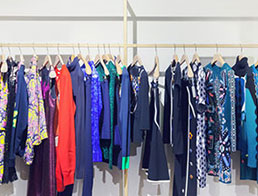 Japanese fashion has influenced the global world of style. It has inspired futuristic, avant-garde and the exotic, in all parts of the world. From the traditional Kimono, street fashion in Harajuku or luxury brands: the Japanese have created their own unique designs.
Anime and Manga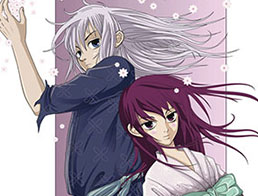 Manga
are comic books with pictures and drawings of characters depicting a storyline that has differing genres for every age group. Anime is a moving picture or cartoon with stories based mostly on Manga but has better production values and more detail. Famous Animes such as Pokemon, Naruto, to name but a few, have become a global phenomenon with a huge following. There are many Anime and Manga conventions held all over the world every year by fans, Otaku's. They meet not only to express their love and passion for the genre but also to show that they are part of a wider world-wide community.
Cosplay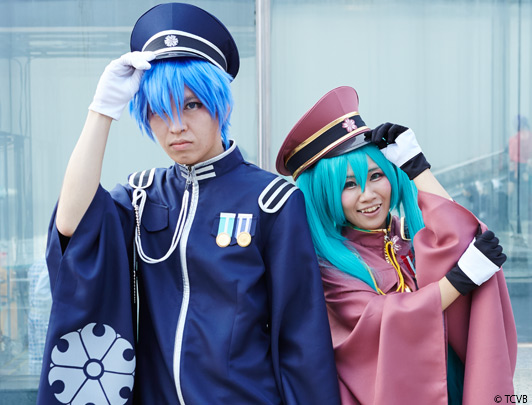 The term Cosplay was invented by a Japanese reporter, Nobuyuki Takahashi, and it is a mixture of the words costume and play. Although Cosplay did not start in Japan, it has influenced ordinary folk to dress up as a character from film, television, book, or video game, or from the Japanese genres of Manga or Anime. They portray characters that they love in costumes, props or make-up. There are many conventions throughout the world which have served to widen its appeal creating a fan base many times larger than its humble origins. You can find many cosplayers on the streets of Harajuku.
Cat Cafe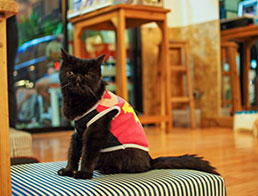 This is for cat lovers and owners, or simply for people who want to interact with cats while enjoying their cup of coffee. The idea first originated in Taiwan not long before it became popular in
Tokyo
and
Osaka
. Should you wish to visit a cat café in Tokyo there is cafe Nekorobi or Cafe Calico, and Temari no Ouch.
Maid Cafe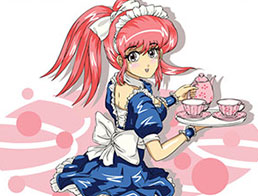 The concept of a maid cafe is influenced by the locals' obsession with Manga and Anime. The waitresses dress up in maid costumes, serving customers and calling them 'master'. If you want a unique experience, it's definitely worth a trying the many cafes in the
Akihabara
district.
Robot restaurant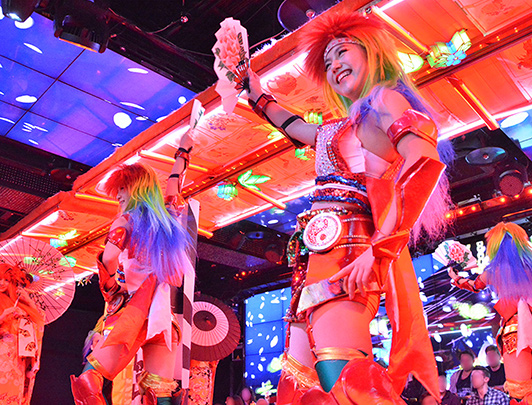 With robots, music, drums, lights and dancing the
Robot Restaurant
in Shinjuku is definitely a sensory overload that's definitely a must-see while in Tokyo. Address: 1-7-1 Kabukicho Shinjuku Shinjuku-ku Tokyo,Japan
First Stage opening act 15:10~ main show 16:00~
Second Stage opening act 17:00~ main show 17:55~
Third Stage opening act 19:00~ main show 19:50~
Fourth Stage opening act 21:00~ main show 21:45~
Entrance fee: 8,000 yen per person (Reservation needed in advance)