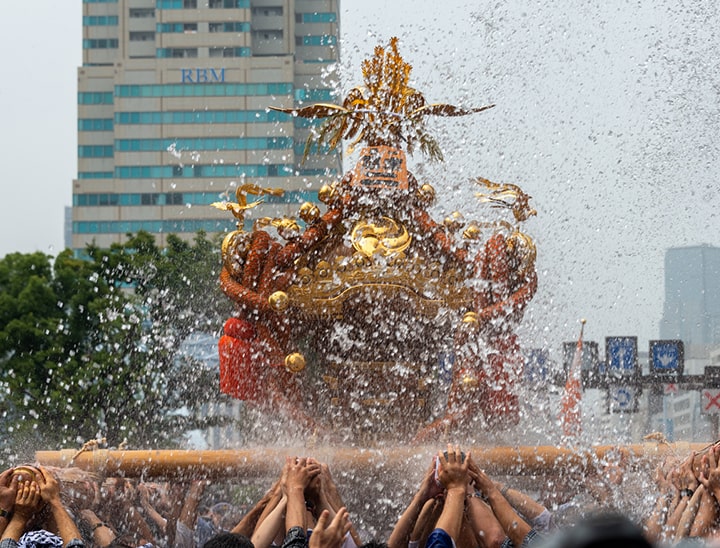 Festivals or "Matsuri" in Japanese, are deeply embedded into Japanese culture. Traditional festivals are frequently celebrated at shrines and temples with participants dressed in traditional colourful costumes and often carrying Mikoshi, portable shrines on their shoulders. Summer festivals mean wearing a yukata, a summer cotton Kimono, eating street food, dancing and mikoshi processions among many other things.
If you happened to be in Japan during summer, why don't you visit one of the summer festivals to experience the traditional Japanese with local people.
Enmusubi Wind Chime Festival, Photo by Hiroshi Ito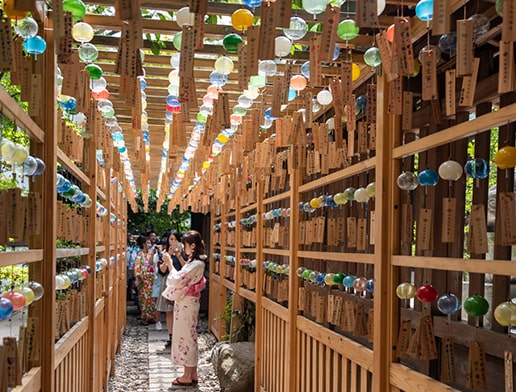 "Enmusubi Wind Chime Festival" at Hikawa Shrine in Kawagoe, Saitama Prefecture is held annually from early July until early September. The events attract lots of singles looking for help in finding the partner every year.
One of the highlights of the event is the 'Furin Kairo', corridor of 2000 wind chimes features the wishes of worshippers that have been written on thin wooden strips and attached to the bells.
Location: Kawagoe Hikawa Jinja, Saitama
Date for 2019: 06 Jul – 08 Sep
Fukagawa Hachiman Festival, Photo by Hiroshi Ito
Fukagawa Hachiman Festival held at Tomioka Hachimangu Shrine is one of the three great Edo festivals along with Sanno festival at Hie shrine and Kanda festival at Kanda Myojin shrine. The festival is known as 'mizu-kake matsuri', literally water throwing festival as throughout the event, you will see people splash purifying water on "Mikoshi", portable shrines. Fukagawa's Tomioka Hachimangu shrine festival takes place annually and the various events are scheduled in the precincts during the festival period. But the "Hon Matsuri", Main Festival is celebrated only once every three years.
Location: Tomioka Hachiman Shrine, Tokyo
Access: 3min. walk from Monzen-nakacho Station on Tokyo Metro Tozai Line T12 or Toei Oedo Line E15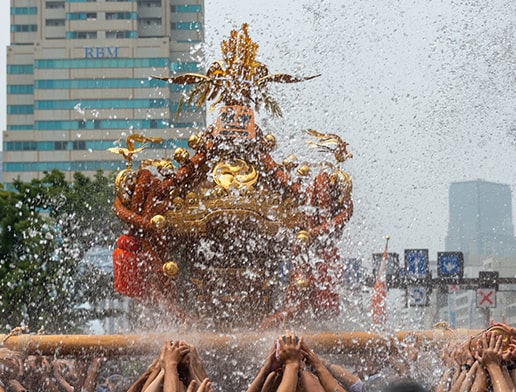 During the festival, people throw tremendous amount of water on 'mikoshi', the portable shrines carried in the district.
Both the Mikosi carriers and the audience get wet and pray for the good health.
Next Hon-Matsuri (main festival) is scheduled for 2020.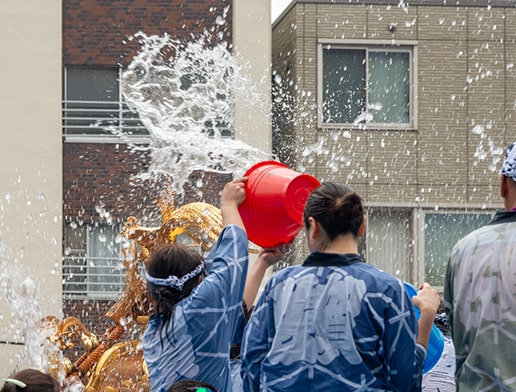 At Hon Matsuri (main festival), held only once every three years, local people to splash water in the bucket to the mikoshi carriers endlessly. "Bucket splashing" makes wild water splashes than the using the hose.
Shonan Nebuta Matsuri, Photos by Tatsuo Idezawa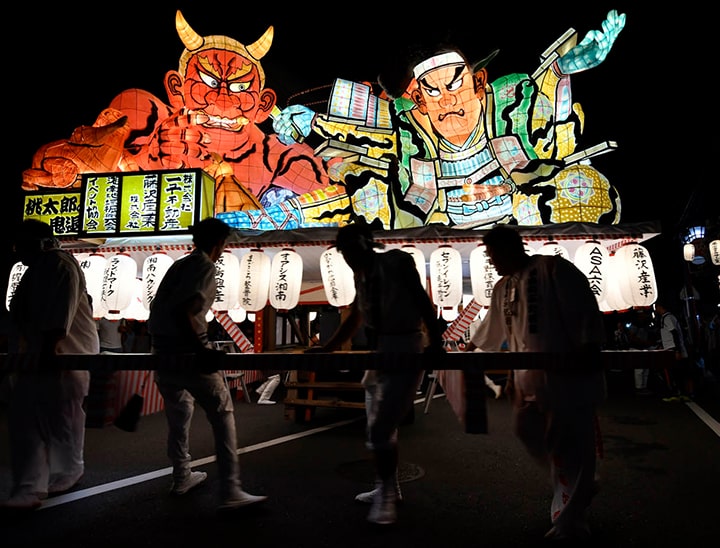 Speaking of "Nebuta Festival", Aomori and Hirosaki are the most famous one, but there is also the Nubuta festival held annually as "Shonan Nebuta Festival" sponsored by a local shopping district on Odakyu Line Mutsuai Nichidaimae Station and Shonandai Station in Fujisawa City, Kanagawa Prefecture.
In Japan, the famous festivals are incorporated into local festivals to raise residents' local awareness. For example, Awa Odori, originally from Tokushima prefecture, is also held in various parts of the Kanto region. The "Shonan Nebuta Festival" of Fujisawa City Mutsuai is not big or famous yet comparing to the authentic Aomori Nebuta Festival, but its loved by the local people and they look forward to it every year.
Location: Fujisawa, Kanagawa
Date: end of August (not scheduled in 2009)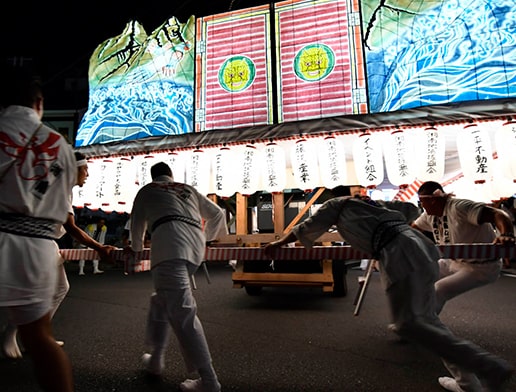 The lantern floats are pushed along the street by human power, weaving back and forth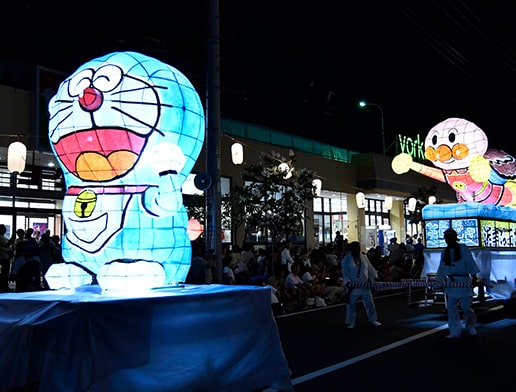 Japanese famous Manga characters, "Doraemon" and "Anpan-man" Nebuta
*All contents are protected by the copyright laws and other intellectual property laws of the United Kingdom.
If you wish to use our content, please contact us at [email protected]